Designing Mathfinder
My name is
Patrick Matthews
. I'm both the designer of the Mathfinder puzzles and the author of the Mathfinder stories.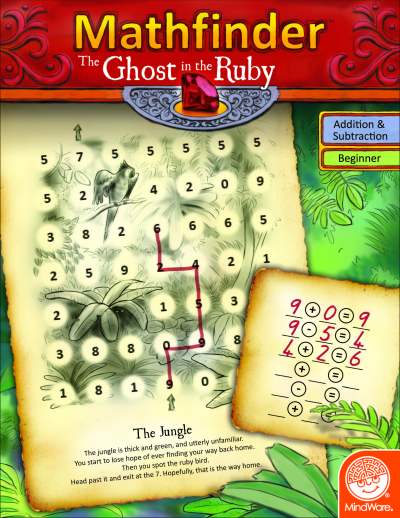 The Idea
Mathfinder started as an idea for a puzzle. I had seen a lot of "find the path" puzzles and games based on words and spelling, but I hadn't seen any based on math. That really surprised me.
Motivated by the idea of creating something new, I started trying to design a puzzle where the goal was for the player to use math to cross a grid of numbers. After a whole bunch of false starts, I ended up with the Mathfinder puzzle.
Still Not Done!
There was only one problem: the puzzles were too difficult. During testing, even experienced puzzle-solvers were stumped. I needed to tone them down, make them easier for casual players to beat.
Blanking out some numbers was part of the solution. That limited ways that the player could move. It wasn't the complete answer, though. I still found that people tended to panic when they saw a puzzle that looked like a grid of numbers.
Even with really easy puzzles, the 7x7 grid of digits was just too intimidating.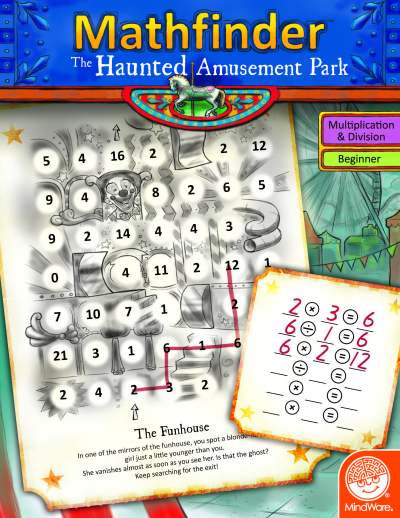 The Solution
For that, I needed artwork: illustrations that would soften the grid, and give clues to the solutions.
Once I had the artwork, the playtesting turned the corner. Players were not only able to solve the puzzles, they were also more interested in them.
It still wasn't enough for me. I wanted an experience that was more engaging than a puzzle, one that had players turning the pages and looking forward to each new page. That's when the third piece of the design slid into place: stories.
Ever have one of those moments when you feel everything come together in just the perfect way? That's what happened to me.
I decided to create a story where the reader would solve a puzzle on each page. Sometimes, those puzzles would even change where the reader went in the story. I would design the puzzles to fit the story, increasing the difficulty with the tension, tying story elements into the puzzles and puzzle elements into the story.
The Result
Each Mathfinder book combines puzzles with an exciting mystery adventure and fantastic illustrations. I didn't do the illustrations. Adam Turner at MindWare took care of those, and he did an amazing job.
So check out a Mathfinders book. I'm sure you'll enjoy playing/solving/reading it as much as I did writing/designing/playing it!
The Artist
Adam Turner
is one of MindWare's talented crew of award-winning illustrators. In addition to illustrating the Mathfinder series, he has worked on dozens of Mindware products, including:
He has also illustrated many of MindWare's coloring books, and illustrated and created many of the original
Extreme Dot to Dot
books.